TIPS ON HOW TO SURVIVE AFTER RETRENCHMENT
Tanya Tosen discussed her tips on how to survive after retrenchment and how employers can motivate their workforce through flexible benefits on SA FM.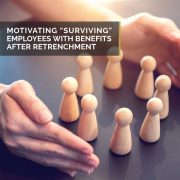 NEWS | MOTIVATING "SURVIVING" EMPLOYEES WITH BENEFITS AFTER RETRENCHMENT
They may experience feelings of powerlessness and, subconsciously, being betrayed by the organisation to which they offered their allegiance. These emotions can be exasperated by the confusion caused by changes in management, differing responsibilities and increased workload, merging with other teams, and other events associated with downsizing.