There have been roughly 45 reported tax cases since January 2014. Of these SARS won twenty seven and taxpayers sixteen. Two of these cases were partial wins. As the charts below indicate, that means 60% of all cases taken to court in the last 19 months have been won by SARS.
One may safely assume that all these cases are backed by one or even multiple tax opinions supporting the taxpayer's position. SARS obviously disagreed and, more often than not, it appears that the courts agree with SARS.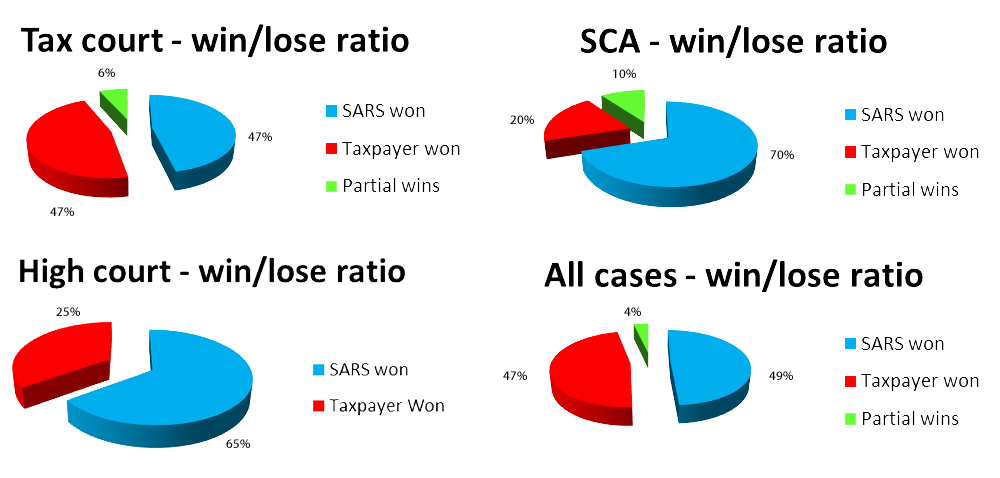 Tax opinions issued by tax professionals are fast losing their commercial value, despite relief offered from understatement penalties in terms of the Tax Administration Act. The only sure fire way to constructively manage a tax risk is obtaining a binding ruling from SARS. Where a binding ruling is not possible, non-binding private opinions issued by SARS can go a long way in actively managing a tax risk.
Our team consists of excellently qualified professionals including, charted accountants, actuaries, lawyers and master tax practitioners who have invaluable experience obtained through many years of practice and from some of the largest professional service firms in South Africa.
Tax Consulting South Africa has attained numerous binding and non-binding rulings and opinions from SARS on behalf of various taxpayers who have greatly benefited from our constructive and effective tax risk management strategies.
Please click here for an informative flow chart on the Tax Ruling process.
[button url="http://taxconsulting.co.za/index.php/contact-us/" target="" size="small" style="black" icon="" popup="" title=""]Contact Us[/button]
https://www.taxconsulting.co.za/wp-content/uploads/2018/08/TC-logo-black-300-x-123-opt.png
0
0
tax consulting
https://www.taxconsulting.co.za/wp-content/uploads/2018/08/TC-logo-black-300-x-123-opt.png
tax consulting
2015-07-28 12:32:14
2018-01-17 09:33:36
Advance Tax Rulings