This is evident from the attached Request for Additional Supporting Documents letter, received by one of Tax Consulting SA's clients. Here, SARS queries the reasons for the emigrated taxpayer's recent visits to the country. The request lists four specific airport arrivals and departures for that person.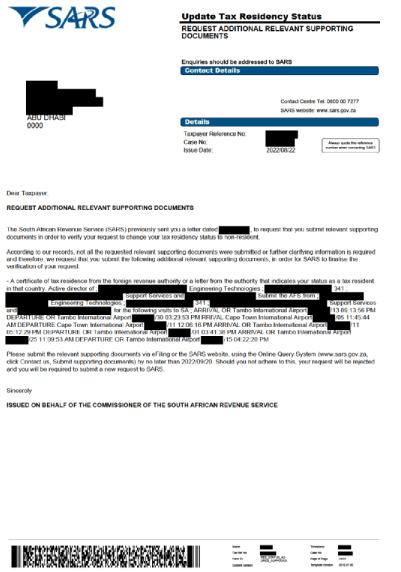 SARS takes flight
It appears, therefore, that the tax authority can access the detailed flight logs of targeted individuals. It is most likely obtaining these records from the Department of Home Affairs' "Track and Trace" systems at the airports.
Furthermore, SARS can use this information to call into question the validity of a nominated applicant's claim that they intend to reside outside South Africa permanently. Permanent departure is the core condition for the approval of non-resident status for tax purposes. Once granted, it releases expatriates from their obligation to pay tax on their worldwide income. However, they are still required to declare any local earnings.
This does not mean expatriates are exiled. They can come and go freely, provided they do not remain in the country longer than the prescribed period. That said, during their application for non-resident status, it is crucial that candidates are able to provide objective evidence of their intention to remain abroad. Now, this includes convincing explanations for re-entry into South Africa, even for short periods.
On SARS' radar
There's no reason to believe that SARS' new radar will not soon grow to be used on all entry and exit points in South Africa. Then, even casual holidays or family visits by expatriates may come under its scrutiny. Also, emigrated taxpayers who are tracked in South Africa for long enough to bring their intent into question, could find themselves reverted to tax residents.
There's little doubt SARS is actively implementing a more rigorous verification and auditing process on non-residence applications, as promised in the 2020 Budget Review. In addition, it is making good progress on its initiative to establish a comprehensive collection of third-party information against which to test applicant's claims of non-residence.
A safe landing
Regardless of this trend, expatriates entering South Africa for casual holidays, to visit family or even for business should not be concerned. This is provided they have a good understanding of the conditions of their non-resident approval or continued non-residence status and have planned their stays accordingly.
Visits like these do not constitute a risk for the expatriate as long as they are able to answer SARS when questioned about the reasons for these stays. They should also not be surprised if SARS uses their entry and exit logs as part of its audit and verification process.