SARS ANNOUNCEMENT REGARDING THE TAX RETURN THRESHOLD
Darren Britz, Senior Tax Attorney and Thamsanqa Msiza, Senior Tax Consultant discuss the recent SARS' announcement regarding the change to the tax return threshold for Tax Season 2019.
First Video: Thamsanqa Msiza, Tax Consultant on 702 Talk Radio.
Second Video: Darren Britz, Senior Tax Attorney on Die Groot Ontbyt.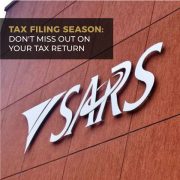 NEWS | TAX FILING SEASON, DON'T MISS OUT ON YOUR TAX RETURN
Taxpayers earning less than R500 000 per annum from one employer in a single tax year are not required by SARS to file their tax returns. However, tax consultants advise that taxpayers should still file their returns if there is a chance they would get a tax refund.