A TO-DO LIST FOR THE NEW SARS COMMISSIONER
Jean du Toit Senior Tax Attorney discuss a to-do list for the new SARS Commissioner on Classic FM.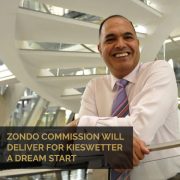 NEWS | ZONDO COMMISSION WILL DELIVER FOR KIESWETTER A DREAM START
The President has entrusted Edward Kieswetter as the new Commissioner for the South African Revenue Service. Boasting a stately CV and with an impressive track record, the Commissioner certainly looks to be the right man for the job under normal circumstances.