A SPECIAL MESSAGE TO YOU, OUR VALUED CLIENT
We greet 2021 with deep gratitude and thankfulness that we could outlast the harsh conditions of a persisting pandemic. There is no doubt that 2021 was a tough year. Amidst a year of pounding uncertainty, it has been an honour to stand steady and decisive alongside our clients and partners on the shifting sands of tax legislation and international mobility. In this newsletter we take a moment to share some highlights of the year and to extend our greatest thanks to our valued clients who have held us in trust for many years. Your loyalty and support are never taken for granted.
This year we achieved several milestones as a company, which include the publication of our new LexisNexis Expatriate Tax textbook, the welcoming of new and energised employees, as well as the onboarding of many complex and exciting clients. We are fortunate to have witnessed the resilience with which our clients and employees responded to a new world of work, while adapting to waves of persistent change on a scale none of us ever expected. In the face of this uncertainty, we remain tirelessly steadfast to serve our clients with exceptional and committed service.
Our wish for all our clients and employees is for them to savour a peaceful festive season filled with rest and restoration while we rekindle relationships with family and friends, and ready ourselves for a year of opportunity to deliver not only our best, but to exceed your expectations.
We wish you a restful and much deserved break. We cannot wait to work with you again throughout 2022.
P.S. We took the liberty of sharing some of our wins that were made possible through your loyal support, as well as a taste of things to look out for in 2022! 
Best Wishes,  
Jerry Botha, Maritza Botha, Mariana Stander, Marisa Jacobs & the Tax Consulting Group
PRESENTING TO YOU OUR INFAMOUS JINGLE-BELLS ENSEMBLE FOR YOUR FESTIVE DELIGHT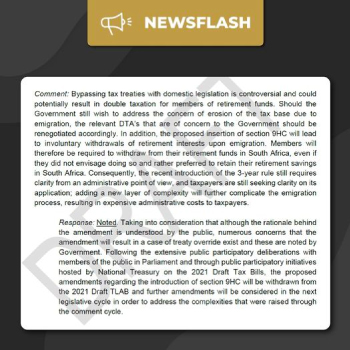 WIN FOR SOUTH AFRICANS WORKING ABROAD
Earlier this year, National Treasury and SARS tabled an additional exit tax on retirement funds, that will be levied at point of emigration (or cessation of tax residency) and payable on day of receiving the lump sum payment, with no indication what tax tables would be used when the calculation is done. This caused a massive uproar in the expat community.
The Expatriate Petition Group ("EPG"), who has an active membership of 15,000 South Africans abroad, conducted a survey to contextualise the proposed retirement fund changes from the perspective of South African expatriates, specifically in light of other recent legislative amendments. The survey results showed that 75% indicated they still have retirement interests in South Africa; whilst 88% of the participants indicated that the amendment would have a negative impact on them personally, of which 64% stated that it will materially change their retirement planning.
TCSA then proceeded to launch a technical submission to parliament to oppose the draft tax bill from being signed into law. This was carried out in the capacity of technical advisor to the Expatriate Petition Group, and which considered the results of the survey.
In its response to submissions received by TCSA and other stakeholders, National Treasury acknowledged that they would be violating international treaty obligations should they proceed with the addition.
This was another big win for South African expatriates, and we were humbled and grateful to once again be involved and to make a difference for our expatriate clientele.
LEXISNEXIS EXPATRIATE TAX TEXTBOOK 2ND EDITION PUBLISHED
In 2019, LexisNexis South Africa approached Tax Consulting South Africa ("TCSA") with the goal of creating a first-of-its-kind guide in South Africa that would give readers a better understanding of expatriate taxation and its constituent elements.
With such a broad subject, the first challenge in compiling the body of work was deciding what to include and exclude from the textbook. The authors erred on the side of caution and produced a comprehensive work that unpacked the relevant legislation and aspects that informed expatriate tax obligations.
Since the launch and success of the sold-out first edition, there have been significant changes in legislation, and we were approached again to author a second edition. We are excited to share this memorable moment with you, as the second edition of the LexisNexis Expatriate Tax textbook has arrived hot off the press. Christmas has indeed arrived early!
If you would like to order a copy, please be sure to do so on the LexisNexis website.
SNEAK PEAK OF 2022 – EXPATRIATE TAX WORLD TOUR
In light of recent travel restrictions, we encourage our clientele to focus on what matters most; your health, families and holiday travel plans. Our thoughts are with those who are stranded and unable to travel because of the bans.
As soon as the dust settles and we can confirm dates for travel arrangements, we will head to the Middle East, Europe, and Australasia to help fellow South Africans demystify the technical components of Expatriate Tax. In the interim, if you have any pressing questions about Expatriate Tax, please contact us.
Be sure to keep an eye on our social media pages for more updates hereon.  
OUR COMPREHENSIVE SERVICE SUITE: FOR ALL YOUR TAX, FINANCIAL, LEGAL, REMUNERATION AND IMMIGRATION MATTERS
WHILE WE TAKE A SHORT BREATHER, HERE ARE SOME ARTICLES TO READ FROM THE AUTHOR'S DESK
PLEASE NOTE THAT DURING THE FESTIVE SEASON OUR OFFICES WILL BE CLOSED FROM MONDAY, 27 DECEMBER 2021, AND WILL REOPEN ON MONDAY, 3 JANUARY 2022
We invite you to have a cup of coffee with us at one of our offices when it's safer to do so in the new year!
Johannesburg
Wrigley Field, The Campus
57 Sloane Street, Bryanston
Gauteng, 2021
South Africa
George
55 York Street
Dormehls Drift
George, 6529
South Africa
Cape Town
V&A 9, Dock Road North Quay
Victoria & Alfred Waterfront
Cape Town, 8001
South Africa